We at Targeted Solutions have worked with lots of churches and non-profits over the years and we are always looking for ways to help organizations to receive donations in professional, beautiful, and easy ways.  One of the best options out there for Churches or organizations using wordpress who are looking to making online giving easy is "Donorbox".
Donorbox is easy to use and provides a seamless, effortless giving option for your church member or user.
We recently set Donorbox up on one of our clients websites, Walking in The Reign, here is what it looks like on their site: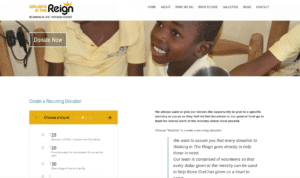 AJAX Inline Loading: Donorbox uses Ajax to allow your users to process the entire  payment on one single page (using Stripe) or to make all their selections and then be taken over to paypal to complete the transaction.
Customizable Giving Options:  Donorbox allows you to customize your giving fields.  You can encourage recurring gifts, or allow people to make one time gifts.  You can also set up specific funds for your church or organization.  Donorbox is highly customizable and gives you the options you need!
Cost:  Donorbox is free for organizations processing under $1,000/month.  See the pricing chart below for donations above $1,000/month.  As you can see, the cost is much less than other services.
Themeable:  Donorbox is themeable to match the colors of your website.  You can easily match the colors your site is already using and make it look like it fits with your website.
So, how do you actually start using Donorbox on your WordPress Website?
Here are the steps you will need to take to implement Donorbox on your Church or Organization's website:
Install the WordPress Plugin for Donorbox
Now go over to Donorbox to signup (you can also sign up for a Stripe Account here to process credit cards directly on your site – PLEASE NOTE:  You will need an SSL certificate to process the credit cards – you CAN just use Paypal and not have to have a certificate.  Need help setting up a SSL?  Contact Us!)
Now that you are signed up, follow the instructions in Donorbox to set up a campaign.  It's really simple and pretty intuitive, if you need help though, don't hesitate to contact us and we will see if we can assist you
Now that your campaign is set up, go back to your organization or church WordPress website, go to the page you want the donations on
You can view Donorbox and manage your options by going to Dashboard > Settings > Donorbox
Copy your Campaign url from Donorbox and put it in the "input box" in the Donorbox settings
On your donation page, use the shortcode: [donate] to put an embedded donation form on your page. If you want to show all the information you put into Donorbox with your donation form, you can use this shortcode [donate-with-info]
Update your page and marvel at your handywork
You can do this, it's fairly easy, it just takes a little determination!
But, if you are unsure about what you are doing or in a bind, we are always here to help.  Just contact us today to get started and get the help you need!